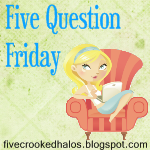 I thought I would try something different this Friday. There is nothing wrong with that, right?
So here goes....
1. Would you rather be on ABC's Extreme Home MakeOver or TLC's What not to Wear?
What not to Wear. I could really use a new wardrobe :)
2. Do you have any tattoos?
No but I keep thinking I might want one. Maybe just a small one, like Hanna's footprint. That would be cute, right?
3. Do you tell your kids about things you did growing up?
Oh boy...We haven't gotten to that age yet. I don't have anything to hide...I was an angel ;) Daddy on the other hand.... ;)
4. If the traffic signal turns yellow, do you stop or speed up?
It depends on how far I am from the light and if there is a camera or not.
Who am I kidding...my sister tells me I drive like an old lady!
5. What's your preference: chocolate or chips?
Chocolate. I don't even have to think twice about that.